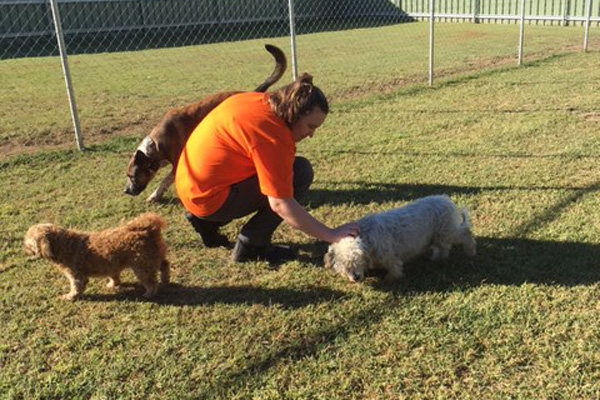 Welcome to
Fido's Boarding Lodge
Thank you for taking the time to visit our web site. Sharon, Kay and Garry are the new owner, and managers, and reside on site.
Fidos boarding lodge and Cattery is located just 10 minutes from Ipswich, but our clients come from Stradbroke Island to the Gold Coast. We service the Ipswich area and surrounds. We are pleased to say that since taking over in September, our client base is growing. Our repeat business says that people are happy with what we are doing.
We Offer
Individualised Attention
As a small boarding kennel we can offer your pet individualised attention.
Our dog kennels have a large sleeping area, a day run that is insulated, so your pet stays cool in the summer and warm and dry in the winter. We also have big exercise yards for the dogs to have a run at least once a day, twice a day weather permitting.
We feed our guests the same as our own dogs - Royal Canin, and fresh Chicken mince or loaf, whichever they prefer.
The cattery is in the process of an update giving our feline guests more room, and is totally separate from the kennels and well ventilated, to ensure they are kept cool and warm.
We feed premium dry food Royal Canin, and the cats evening menu varies daily from fish or chicken to beef.
We don't charge extra for administering medication, or feeding your own food.
Please feel free to give us a call and make an appointment to inspect our updated facilities. We would love to show you around.
ADF Discount 
We offer a 10% discount to all serving Australian Defence Force members.
Testimonials
What People Are Saying
Kira Wilson
23rd September 2018
So happy with Kay and the team at Fidos for looking after my fur baby. I was so concerned leaving him as he normally stays with my parents, but after talking with Kay and her answering my many phone calls I could not have been happier- he is healthy and happy. Would highly recommend to anyone, especially someone who's dog and owner has separation anxiety
Em Cole
1st October 2018
Amazing facility and wonderful owners. I was extremely anxious about putting my dogs into the Kennels as it was their first time and they are somewhat wary of people and other dogs. I was made to feel at complete ease when I inspected the facility and felt comfortable about leaving my puppers at Fidos. I have since picked them up after their 4 day stay and my dogs didn't want to leave! I strongly recommend Fidos. Thank you for looking after Maggie and Diego they will be back again.
Taylah Burgess
9th September 2018
I have just picked up my two dogs this afternoon after a short two night stay. This was both my dogs first experience at a dog kennel and first experience staying somewhere unknown. My dogs look and smell amazing. I would highly recommend Fidos Lodge to anyone who is unsure about leaving your dog at a kennel The staff are extremely lovely and accomodating with your dogs special needs which is definately peace of mind. I cannot thank them enough. My dogs will definately be back.
Lisa Clark
20th August 2018
We love the genuine care that our dogs always receive at Fido's. The owners and staff are absolutely lovely and it's so wonderful to be able to go away, relaxed and knowing that our dogs will be happy and treated like we would treat them at home. We highly recommend Fido's.
Leesa Williams
October 5th 2018
We love the genuine care that our dogs always receive at Fido's. The owners and staff are absolutely lovely and it's so wonderful to be able to go away, relaxed and knowing that our dogs will be happy and treated like we would treat them at home. We highly recommend Fido's.
Zack Gutteridge
Awesome kennel
Jamie Krause
18th September 2018
After having my dog and cat at Fido's I cannot take them anywhere else! Its wonderful to leave your pets with people
that care about them as much as you do.
We drive 4 hours to take out family members to a place we trust.
Thank you so much for all the work you do!! Cannot recommend Fidos highly enough
Anon Anon
6th AUGUST 2018
New owners have done an amazing job!
Most attentive and caring animal lovers you will come across. We drive an hour and a half for drop off and pick up.
Would not trust anyone else with out family members.
Our pets love us going on holiday. The come home looking well nourished and cared for.
Totally professional who know what they are doing.
No anxiety worrying if our pet are okay.
Great work Fido's Lodge.
We'll be back Thank You
I couldn't be happier with the amazing care Kay and the team at Fidos have taken of my fur kids!!! Special dietary requirements, vet trips, kindness and attention. – they have been fantastic. They have paid such close attention they even noticed a tiny abnormality on my girls ear, caused by my boy playing too rough. Because they were so attentive we got this sorted early and quickly. Strongly recommend this kennel for your pups
Professional, caring and attentive is what you want for your pets, when leaving them in a kennel. Fidos Lodge offers all that and more…..
Our dogs came home looking better than when they arrived. We drive and hour and a half to drop them off and wouldnt go anywhere else.
Our dogs have a lovely relationship with these owners, and enjoy us going on holiday now. No stressing your pet is Okay. We have full trust our family members are cared for extremely well.
Great facilities and nutrition.
Fantastic buisness and owners. Thank you for a  wonderful job/
Had our kelpie stay there several times and the cat a couple of times, always happy when they come home, and had a great time staying.
OPENING HOURS
 Monday to Saturday: 8am - 10am and 4pm - 5pm
 Sunday: 4pm -5 pm
Closed: Good Friday, Christmas Day and New Years Day
Eftpos Facilities: incur 1.5% surcharge